Welcome to Kerala Social Centre Abu Dhabi
The Kerala Social Centre (KSC) is a prominent social cultural forum of expatriates from Kerala in Abu Dhabi. The Centre Established in 1972 and it moved to the current premises in Madinat Zayed in the capital in 1996. KSC, registered with the UAE Ministry of Community Development, caters to around 4,500 people, including around 1,500 members and their family members.
About Us
Message from the President
Beeran Kutty .A.K
President
Dear Esteemed Members and Friends,

As the President of the Kerala Social Centre, it is both a privilege and an honor to address each and every member of our vibrant and diverse Indian community residing here in Abu Dhabi. It fills my heart with immense joy and deep gratitude to witness the remarkable unity and strength that define our community.

First and foremost, I would like to extend my heartfelt gratitude to the visionary leaders of the UAE who have graciously granted us the permission and freedom to operate as a social organization within this wonderful nation.

At the core of the Kerala Social Centre's mission lies the desire to celebrate and preserve our rich Indian culture, heritage, and values, all while embracing the beautiful tapestry of the local culture of our gracious host country. It is in this harmonious blend that we can genuinely experience the beauty of cultural integration.
Read Full Message
Message from the General Secretary
Sathian K
General Secretary
Dear Esteemed Members,

I extend warm greetings and heartfelt wishes to each and every one of you.

Our community holds a special place in our hearts, symbolizing the vibrant traditions, rich culture, and enduring values that define Kerala. The Kerala Social Centre stands as a bridge that unites us, nurturing unity, camaraderie, and a profound sense of belonging.

My deepest gratitude goes out to all the members of our community who have wholeheartedly engaged in the diverse programs, events, and initiatives orchestrated by the Kerala Social Centre. Your enthusiastic participation has been pivotal in weaving a tightly-knit community that mutually supports and uplifts one another.
Read Full Message
Our Activities
Malayalam Mission
Reading Room & Library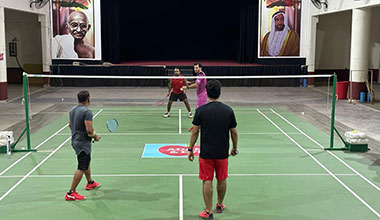 Sports
Help Desk
Facilities for Students & Youth
Auditorium and Class Rooms
Dance, Music and Drawing
KSC Office Bearers
A.K. Beerankutty
Hon. President
akbkutty@gmail.com
0504780760
Roy I Varghese
Hon. Vice President
roymillil@yahoo.com
0554978689
SATHIAN. K
Hon. General Secretary
sathiank6@gmail.com
0504708339
SHABIN PREMARAJAN
Hon. Treasurer
shabinpremarajan@gmail.com
0507617959
Sreekanth P
Hon. Joint Secretary
sreekanthpokkadath@gmail.com
0543530045
ABHILASH THARAYIL
Hon. Joint Secretary
abhilashtt@gmail.com
0521333417
NAHAS. A
Hon. Asst. Treasurer
nahas999@gmail.com
0508127834
LETHISH SHANKAR
Hon. Arts Secretary
latheeshpooja@yahoo.co.in
0502647850
RASHEED AYROOR
Hon. Sports Secretary
rasheed.ayrur@gmail.com
0504915241
RAFEEK ALI KOLIYATH
Hon. Literary Secretary
rakolliyath@gmail.com
0504905686
SHOBI K.A.
Hon. Librarian
shobiappukuttan@gmail.com
0551959200
P.M.SULAIMAN (BADUSHA)
Hon. Asst. Arts Secretary
badusha91@gmail.com
0506994374
SUBASH. P. V
Asst. Sports Secretary
subashpdepa@gmail.com
0558076072
RAFEEQUE C. M
Hon. Asst. Literary Secretary
rafeequemuhasina5@gmail.com
0559283447
REJILAL KOKKADAN
Hon. Auditor
rejilalkokkadan@gmail.com
0505851372
SULFIQUAR. V. P
Hon. Asst. Auditor
sulfiquarvp@gmail.com
0505741101
Quick Links